Chef Daniel Wendell
Daniel's love of cooking and food design developed at the young age of thirteen awhile living in Chico, California. Daniel's father, a café cook, plated a passion for food in Daniel that soon lead to his own culinary career apprenticing in a cheese and charcuterie shop before gaining experience at a renowned Berkeley restaurant. Very quickly, Daniel discovered his natural talent. And he enjoyed the lifestyle, immersing in self-study and practice.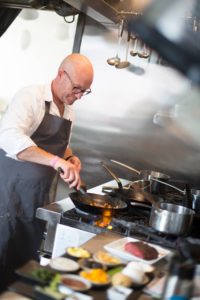 Eventually, Daniel moved to Alaska where—at only 23—became the executive chef at Sack's Café, a popular and established restaurant in Anchorage. Daniel had the privilege of delivering inspiring and creative dishes throughout the West, including Colorado, New Mexico, and eventually Montana.
In 2013 Daniel opened The Food Studio in Bozeman—a high-end culinary design studio with a certified commercial kitchen. With his fabulous team, the Food Studio hosts dinners, cater parties, and serve as private, in-house chefs. The Food Studio Team offers unique culinary experiences to the Gallatin Valley by highlighting local ingredients in fun and imaginative ways, creating an edible landscape where all senses are explored.
Additionally, The Food Studio hosts regular culinary and cooking instruction—from the basics to more advanced training—serving amateur home cooks and food service professionals who dream of becoming chefs.
Daniel's culinary philosophy mirrors the growing trend towards a healthier and balanced lifestyle. Building partnerships with nearby farmers and ranchers, he seeks out the finest regional and local ingredients for cuisine. Doing so allows the natural flavor of food to express itself. Daniel and his team strive to use their culinary artistry to change the way the Gallatin Valley experiences food.
The Food Studio quickly evolved into a sought-after gathering place, in part, due to his genuine love of entertaining clients and guests. As a chef for most of his adult life, Daniel learned that his greatest joy comes from opportunity to focus on food creativity and discovering ways to make complex, contrasting ingredients and flavors complement each other. He instinctively envisions how the final product will come together for the palette.
Clients appreciate Daniel's creative culinary style, as well as his unique ability to manage high stress situations, keeping their special events perfect. His extensive knowledge of various cuisines, ingredients, and cooking styles allows him and his team to offer exiting and unexpected options.
Daniel loves to work with a team of talented and passionate chefs at The Food Studio. Experience our combined enthusiasm to deliver impressive dishes in our private dining room. It's the perfect blend of elegant, romantic, and modern.
General Manager Eva Wendell
Eva and Daniel married in 2002 and opened the Studio in 2013 working with each other's passions and strengths to create the culinary masterpiece the Food Studio has become today. Eva, with her ever positive attitude, abundant compassion, and drive for greatness, brings clarity and direction to both client vision and the artistic masterpieces Daniel creates.
Eva specializes in the customer service industry propelling the Food Studio to a culinary experience of professionalism like non other. Her ability to see and understand every detail is only surpassed by her professional approach to a customer's specific need. She has a refined attention to detail to make the client's dream come true.